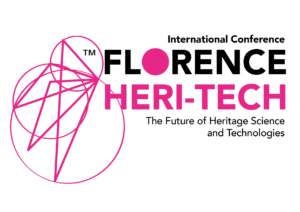 PREMISE
The Future of Heritage Science and Technologies Conference involves a large number of researchers and scholars from around the world and puts the industry's current issues under the spotlight, specifically on issues related to innovative techniques and technologies. The Conference is part of the Florence International Biennal for Art and Restoration, an international event attracting prestigious institutions and companies and creating a unique opportunity to bring together the academic world with industry.
Authors will be invited to submit extended abstracts which will be peer reviewed for relevance to the conference topics. Full papers will be peer reviewed for acceptance with the essential corrections and proposed for oral presentation or poster session.
OBJECTIVES                   
Heri-Tech is the first International Conference to welcome major researchers and scholars from all over the world, focusing on current and future issues in the field on issues related to innovative techniques and technologies. The city of Florence will therefore be the international heart of Restoration and Cultural and Environmental assets as well as a forum for meeting and discussing for experts, operators and enthusiasts from around the world. The Conference will be a significant opportunity for exchange between researchers and companies for the promotion of productive excellence, technological evolution, the greater use of culture for younger sections of the population and specialization in the educational field for graduates and PhD students.
The final objectives are: to foster European mobility and co-operation between students and staff; to enhance Europe's development as a multi-cultural society and to encourage the concept that scientific-cultural research must be an integral part of society; to promote international networks between universities, training institutes and companies to create long-term collaboration opportunities; to create favourable conditions for young graduates to enter the world of work; to demonstrate the influence of new technologies in the arts and how they can be used for innovative teaching and learning; and to establish contacts and cooperation between Institutions in the Academic world and the world of work.