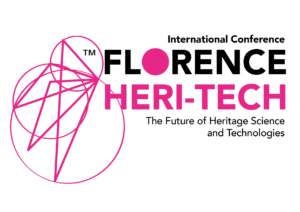 For those who want to attend the conference AS SIMPLE AUDITORS, the online ticket will be soon available!
For more information info@florenceheritech.com
---
REGISTRATION FEE 
Registration fee
Early registration

by 28 February 2018

Standard registration

by 15 March 2018

FULL * – Authors
390 Euro
450 Euro
STUDENT – Authors
260 Euro
300 Euro 
Collaborators
90 Euro / per day
Collaborators – Students
30 Euro/ per day
*Full Registration including gala dinner for 1 person
The Registration Fee includes:
Admission to all conference's sessions, conference bag, certificate of Attendance as a participant, lunches and coffee breaks for the three conference days, access to Wi-fi, special rates for accommodation (see the list of hotels in the site of the conference (www.florenceheritech.com). Gala dinner is included for 1 person just for FULL registration.
The registration deadlines listed above refer to the date of the payment.
---
REGISTRATION 
The registration to the International Conference Heri-Tech is divided in three categories: Authors, Students, Auditors. Please choose your category, download the FORM, complete all the sections and sign the registration pdf, send it together with a copy of the bank transfer via Email (scanned version)  to info@florenceheritech.com
AUTHORS (People people who submitted papers – Remember that this registration is only just for the first author of paper, if co-authors want attend to conference they have to registrate yourself like AUDITORS)
STUDENT AUTHORS (Students people who submitted papers)
COLLABORATORS (Co-authors, collaborators,  For AUDITORS discount of 10%)
The registration process requires 4 steps:
Choose the registration type
Choose extras
Insert your data
Make payment following bank details and send the receipt to info@florenceheritech.com along with complete pdf registration.
If you make the registration for 1authors and 3auditors together please in the description of payment insert ALL NAMES+REGISTRATION TYPOLOGY of people that attend the conference